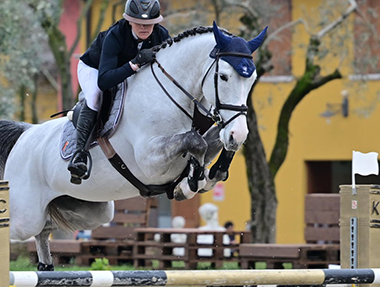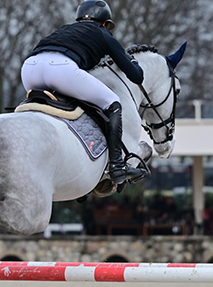 Agino Z
AGANIX DU SEIGNEUR x CUMANO
ZANGERSHEIDE 056015Z55353318, 1.69 m, grey, 2018
Breeder: Eyskens Jozef, Leopoldsburg (BE)
This appealing Aganix du Seigneur Z stallion has everything you want from a sport horse! Jumping ability, technique and very good rideability. The exterior is characterized by appearance combined with a well-muscled loin and topline and a correct and strong foundation.
Sire Aganix du Seigneur Z is one of the most talked about stallions today. This new sire currently leads many stallion rankings within his age category and is bred from the acclaimed Sitte breeding line that produced numerous 1.60m GP show jumpers.
Dam Celin Z is a daughter of the Cassini I son Cumano who convincingly became world champion in Aachen in 2006 under the saddle of Jos Lansink. She already produced three 1.40m horses and is the grandmother of the stallion Argo Z who performs at 1.45m level under Dave Maarse.
The dam's line continues with the mare Fibra (1982), daughter of Hibrahim von Pferdheim, who in turn, with Ibrahim and Ultimate xx, carries the same bloodline as the world-famous Almé. In addition, Hibrahim has the legendary thoroughbred Orange Peel xx on both his father's side and his mother's side. Ibrahim is one of the most influential stallions of all time and is at the basis of world famous progenitors such as Quidam de Revel, Baloubet du Rouet, Diamant de Semilly, Nabab de Reve and many others! The fact that grandmother Fibra is a direct granddaughter of the legendary Ibrahim makes Agino Z even more interesting.
AGINO Z: POWERFUL AND SCOPEY SON OF AGANIX DU SEIGNEUR!
Agino Z by Aganix du Seigneur x Cumano